Sunday, January 31
10:28 AM In our Mark class this week we will be focusing on textual criticism, verbal aspect, and the Synoptic Problem. Why do we have four Gospels? Where does Mark fit in? In Matthew, Jesus is king. In Mark, Jesus is servant. In Luke, Jesus is fully man. And in John, Jesus is the eternal God. Hence king/servant, man/God. What's more, in no Gospel do we have much "commentary" by the author. The "commentary" is to be found in the way the Gospel writer selected and arranged his stories. Mark, for example, has only 31 verses that find no parallel with Matthew and Luke. So we think, "Why, then, should I even bother with reading Mark?" However, Mark's story of the life of Christ has its own particular arrangement that reveals a great deal about his purpose in writing. For Mark, Jesus is above all the servant of the Lord. Hence chapter 1 moves right into the ministry/service of Jesus without anything said about his genealogy or childhood. Moreover, in Matthew's Gospel, Jesus speaks in about 60 percent of the verses. In Luke, 50 percent. In John, 50 percent also. In Mark, it's more like 42 percent. The accent lies on the deeds, not words, of Jesus. He's the servant who serves.
Now, where in the Old Testament is the coming Messiah portrayed as a servant? The answer is in the book of Isaiah. In fact, in the second half of Isaiah, the concept of the Suffering Servant of the Lord finds a unique emphasis in all of the Old Testament. 5 passages in Isaiah have a direct reference to the theme of Mark's Gospel: chapters 42, 49, 50, 53, and 61. Note the following:
1) It's no coincidence that Mark's Gospel in 1:1 begins with a reference to the euangelion, the Good News. See Isa. 61:1: "The Spirit of the Lord God is upon me, because the Lord has appointed me to bring good news to the poor." Here "bring good news" is lebasser in Hebrew, from which the noun form "Gospel" derives (Hebrew: Besorah).
2) Then, in Mark 1:2-3, the author proceeds to quite directly from a passage in Isaiah 40. John the Baptizer will prepare the way of the Lord. Here it's made crystal clear who this coming preacher of the gospel is: It is Yahweh, the Lord himself.
3) In Mark 1:9, we read that the Holy Spirit descended upon Jesus as a dove — just as Isaiah foretold that the Spirit of the Lord would come upon him. Jesus' baptism is the fulfillment of that prophecy.
4) Finally, notice how the words of the Father in Mark 1:11 reflect the opening of the 42nd chapter of Isaiah: "Here is my servant, whom I uphold, my chosen one, in whom I delight. I will put my Spirit upon him, and he will bring justice to the nations" (Isa. 42:1).
These parallels between Mark and Isaiah raise an interesting question. It has to do with the text of Mark 1:2, where some manuscripts read "in the Isaiah the prophet," while others read "in the prophets." Again, we are driven back to the art and science of textual criticism. This morning I was reviewing my power point on the text of Matt. 5:22 and snapped this screen shot for you.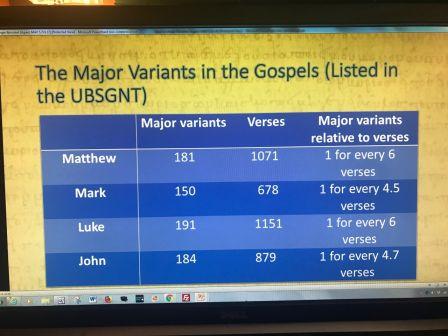 Interesting, isn't it, that the Gospel According to Mark has a greater number of significant textual variants than are found in any of the other Gospels. Here in chapter 1 we find important variants in:
1:1 — "Son of God" or omit these words?
1:2 — "in Isaiah the prophet" or "in the prophets"?
1:4 —  "John came baptizing" or "John the Baptizer came"?
1:14 — "gospel" or "gospel of the kingdom"?
1:41 — "moved with compassion" or "moved with anger"?
In Tuesday's class we will discuss all of these variants and also delve into the deeper question of how you should approach textual variants when you encounter them in reading your New Testament.
All these matters and more are on my mind as I prepare for this week's classes. What passages of Scripture are you reading this very day? What great goals loom before you this week? What avalanche threatens you this year? Whatever it is, and no matter what it is, you are never but a prayer away from your Servant King, the God-man Jesus Christ. As we see in Mark's Gospel, obstacles and even horrible circumstances mean little to him. He's looking for followers like James and John, Peter and Andrew, who will believe that what's impossible to them is possible to him. Jesus has got a pretty good track record in the miracles and deliverance department. He didn't come to be served but to serve and to give his life for many. Blessed are his followers when they're at the end of their rope. With less of us, there's more of him and his rule.
Time to go online for my morning service 🙂
(From Dave Black Online. Used by permission.)